TALL TALES, HUMOR, Legends & SUCH
DON'T MISS THIS ONE!!
Notes from an "Inexperienced" Chili Taster named Frank at one of our famous Texas Chilli Cookoffs!
You'll find it in the lower portion of this next site:

Chili Prayer

"Lord God, You know us old cowhands is forgetful. Sometimes I cant even recollect what happened yestiddy. We is forgetful. We just know daylight and dark, summer, fall, winter and spring. But I sure hope we dont ne'ver forget to thank You before we is about to eat a mess of good chili. We don't know why, in Your wisdom, You been so doggone good to us. The heathen Chinee don't have no chili, ever. The Frenchmens is left out. The Rooshians don't know no more about chili than a hog does about a side saddle. Even the Meskins don't get a good whiff of it unless they stay around here. Chili eaters is some of Your chosen people. We don't know why You so doggone good to us. But Lord, don't ever think we ain't grateful for this chili we about to eat. Amen."

~ An actual Prayer ~
delivered at cowboys reunion in Amarillo
By: Bones Hooks, a popular cook of West Texas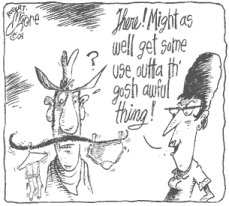 TRUE TEXAS FACTS by Roger Moore ~ July 18, 1979: Gale Burr of Irving claimed the record for the longest mustach = 2 feet.