Copyright 2001 CPC Services
All Images and Materials are Copyright Protected under Title 17: US code 106, 106A.
Please refrain from attempted capture, copy or use which is prohibited without documented permission.
If you would like to use any of our materials for your own purpose, or would like a graphic or banner created for you from our materials, please email us and we'll try to work that out for you.
Thanks!

* All Images are Ghost Marked to prevent unauthorized use *



Print: "Brilliant Setting"
History and Details below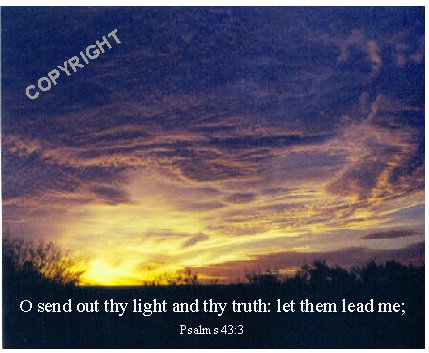 PRINT HISTORY: Abilene Series Exclusive Collector Edition: "Brilliant Setting".
After a day battling violent Texas weather, the welcomed rays of another beautiful Big Country sunset, leading you out from under the storms to safety AND beaming right down the middle of your own lonely country road to home, is a sight that convinces me that He will "show us the path", "light our ways" and truly guide us if we just SEEK Him and be alert to Him. As viewed at days end: May, 2002 heading west on CR 487 from CR 3034: Taylor County.
All prints are accompanied by a "Certificate of Authenticity", suitable for framing, which will include History and Details as relevant to each Print.
~ Plus ~
Giver and Receiver's names if Print is ordered as a Custom Personalized Gift.


~ Use your Browser to RETURN to this page after following the Links below ~



SEE A CERTIFICATE - close window to return


EDITOR'S COMMENTS: A day out in your vehicle under West Texas' violent weather means pulling over on the side of the road because you can't see anymore through the downpour of rain, hoping the hail doesn't take out your windows and leave you totally exposed, constantly watching the skies for funnels and wall clouds, keeping an eye out for what shelter might be available where you are at, thinking and planning what you will have to do if you see that twister coming at you, staying tuned to Spotter's Reports so you know what may be chasing you down.
Out on these lonely country roads, with no street lights, no people, and only the occasional house or barn... it can be pretty harrowing.
Seeing your way out and home lit up by the Lord's hand can inspire a deeply grateful heart.