Copyright 2001 CPC Services
All Images and Materials are Copyright Protected under Title 17: US code 106, 106A.
Please refrain from attempted capture, copy or use which is prohibited without documented permission.
If you would like to use any of our materials for your own purpose, or would like a graphic or banner created for you from our materials, please email us and we'll try to work that out for you.
Thanks!
* All Images are Ghost Marked to prevent unauthorized use *





Collector Edition Print: "Storm's Dawn"
History and Details below.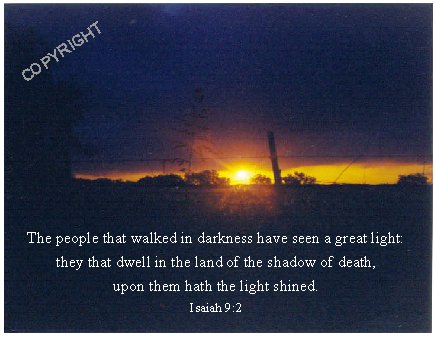 PRINT HISTORY: Abilene Series Exclusive Collector Edition: "Storm's Dawn".

After a series of days and nights filled with the constant dark and danger of severe storms, one is grateful to be greeted with a glimmer of hope on the horizon that a better day may be on it's way. As viewed at Dawn: March, 2002 across ranch lands at intersection of CR 3034 and 487: Taylor County.
All prints are accompanied by a "Certificate of Authenticity", suitable for framing, which will include History and Details as relevant to each Print.
~ Plus ~
Giver and Receiver's names if Print is ordered as a Custom Personalized Gift.




~ Use your Browser to return to this page if you follow any of the Links below ~



SEE A CERTIFICATE - close window to return


TAKE A CLOSER LOOK.
Note the ranch post and fencing wire in this capture.
Owning your own land and being a rancher is many people's dreams of wealth while working from home. But living with the dream isn't as easy as folks generally think. Long hours of heavy manual labor faces you seven days a week no matter what is going on. The safety and well being of the animals and the land is a constant responsibility that waits for nothing and no one. Even though care for your animals and the land doesn't come with a time clock, it never ends... no matter what the weather, and it must begin at a time called "dawn" even if it still looks like midnight with storm clouds. You slog through mud above your ankles and get soaking wet beneath your weather gear because the wind is almost gale force. Animals don't wait. Care and feeding are expected no matter what their humans have to bear. Their safety can't wait... your entire next year's income depends upon their safety and well being.

Seeing the sun break through those dark clouds on the horizon, after days of heavy toil against severe weather, can make even a rough, tough Rancher pause to enjoy the magnificent sight, reflect on the words of scriptures, thank his Lord and hope for an easier day.