A Mature single Mom, with a flourishing career, is very proud and happy of the child she invited into her life despite many advices to not.

Congratulations Marsha!

Custom Announcement Front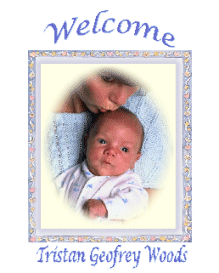 This Mom and Dad are avid NASCAR enthusiasts... of Jeff Gordon in particular.... So!
POST CARD STYLE
FRONT
LOOK carefully!

It's hard to tell in this reduced size, but baby is driving Jeff Gordon's car!

The extreme zoom shot below is pixel choppy but you can see him a little better in it.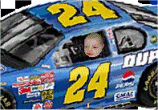 BACK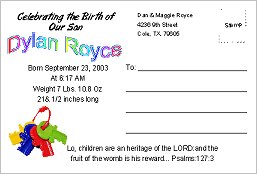 spacer

spacer


This Traditional Style Announcement folds open and you are viewing the insides, on this right side of this page.

After much discussion concerning this particular situation, we chose not to include a verse but to speak from her heart with words she spoke to us, along with an enclosure card of miniature birth footprints as a keepsake token.

* Note the Scanned in Signature from Mom.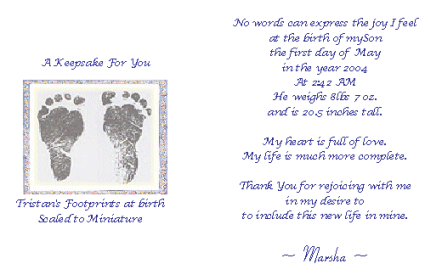 This Mom and Dad are growing Ranchers and
Breeder/Trainers of American Saddle and
Working Ranch Horses.... So!
POST CARD STYLE
FRONT
BACK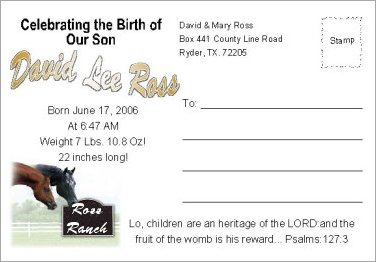 Due to Custom Designing,
Your price is determined largely by your request
to incorporate elements such as Logos, Photos,
Signatures, viability of requested photos, etc.
and your choices of print stock.

Your price will be determined and quoted
after we discuss your requested preferences,
Design basics thru stage one,
Agree to perform services for you,
and
before proofs are created
and sent via email or delivery.

In general, you should expect
basic pricing to fall between

.35 to .50 cents per announcement - POST CARD STYLE

.65 to .85 cents per announcement - FOLD CARD STYLE
* Fold Card Orders include envelopes.