Although Our Traditional Gift Paks featuring The Abilene Series and Customized Personal Photos still hold the Top Ranking Positions as THE Most Popular Items...

These Online Gift and Greeting Web Pages are fast on their heels and have become VERY HOT items!
Built for you
* IN FREE SPACES *
these Unique Gifts and Greetings
incur a one time charge of $25 per page
and
NO OTHER MONTHLY FEES

WOW!

A Unique and Impressive Gift for only $25!
Great for those who "have everything"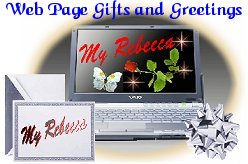 Presented by a
Musical Gift Email Page
(contact us to request an example)
On Theme Event Stationery
and/or Traditional Paper Gift Card
An Exclusive, Personalized
Gifting Solution
That gives a Real Thrill!
They remain on these FREE servers for as long as the company exists.

As we use only reputable companies like Tripod or Geocities, that may be for a lifetime!


These Gifts and Greetings can be CHANGED or ADDED TO at any time...
FOR ANY OCCASION or HOLIDAY!
SEE A FEW EXAMPLES BELOW
and then
CONTACT US!