We were given these guidelines:
Spelled "Granpa" as tradition
Granpa's Psalm HIS way
Grandpa's Birthday was in October
His favorite season was the Fall
His favorite colors were greens, golds and browns
His favorite time of the day was...of course... MORNINGS!
His life was on a small, humble horse and cattle ranch
THE FINISHED PRINT: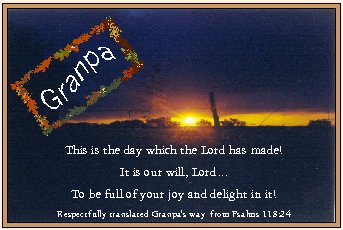 * NOTE - TROUBLE SCANNING:
We had difficulty scanning this print in due to the light reflection off the high gloss production they requested.
The actual print was a crystal clear production with rich, deep, flawless colors, graphics and print.
Print $24.95
On Special Paper $2
Personalized $2
Stock Graphic $NC
PACKAGE PRICE FOR THIS UNIQUE GIFT
ONLY $28.95!