This project was one of our most difficult, yet one of the most fun.

Not only were the colors eventually selected totally opposite of any wedding color we had been told originally, but the story behind it touched us deeply.
Most Couples have Wedding Pictures...
But this Sister of the Bride wanted to present a Classic Wedding Commemorative Gift AT the Wedding... BEFORE Wedding pictures were taken.
She had photos of the couple and always thought they were destined for marriage, so 6 weeks BEFORE the wedding... she submitted this photo for us to do SOMETHING Classic, Elegant, and Wedding Commemorative with!

Through our fact finding process (our casual conversations and proofs) we found that this was an older couple, and eventually, that their wedding colors were deep Blue, Burgundy, and a DEEP beige.

We were also told the wonderful story of WHY A YELLOW BUTTERFLY WAS ABSOLUTELY NECESSARY in the portrait:
The Bride had been married once before. Seven years and a son later, the groom just never came home from work one day. He refused any contact or communication with her or his son. She found that none of the bills had been paid for months so her car was repossessed, her belongings were set on the street and there was NO money in any of the accounts. After several months of severe struggle and with a malfunctioning heart... she awaited at bus at a stop in the 102 degree, blistering heat of smog filled, elbow to elbow, bumper to bumper , roaring crowd in the deep canyons of downtown Dallas, Texas. Almost overcome with exhaustion, heat and thumbing heart, her head drooping onto her chest... she reached out to God in despair and asked... "In all this... Where are you God" ... and with that... in all that heat, crowd, noise, and in a place you never saw one... a beautiful Yellow Butterfly landed on the arm in her lap, right under her eyes... and stayed, even when she and others moved around her... for a long, long while! She knew then and there that no matter what... God is ALWAYS there... and every thing would be alright.

12 years later, she has now met and is marrying the Help Meet she prayed about even way back then.
Yes... The Yellow Butterfly was indeed a MUST!
THE PROCESS - Step 1
Through friendly emails and phone conversations, we get a feel for the basics, concentrate on traditional Wedding concepts and then crank out our first proof... KNOWING it probably will not fly AS IS but will need a little tweaking and sometimes... even changing altogether...
Proof #1
Although difficult to see here, this was on a Deep Beige Parchment background.

All but the Photo and Title were a flop. We learned from this that the wedding colors were DARKS and that Pastels are NOT well thought of by the couple.
Also, the Butterfly needed to be plain yellow with no trim.
So we start again with this new Info in mind...
THE PROCESS - Step 2
Proof #2

This one was a LOT better!

AND... we could have probably stopped here and had happy Customers, BUT...
We could tell from our telephone conversation that the back ground was still a little too bright and also
The butterfly still wasn't exactly how they were seeing it in their mind...
like the spirit of God, symbolized.

SO... We pushed on a just a little more and came up with the next one, which they little more than glanced at and screamed ...
" STOP! THIS IS IT! This is THE one! PERFECT! WE LOVE IT! "
And we ended up with extremely satisfied, happy Customers
who came back for MORE.

And THAT .... is how we like it!

LEARN ABOUT THE VIEWING PROCESS HERE
THE PROCESS-Step 3: FINISHED PRODUCT!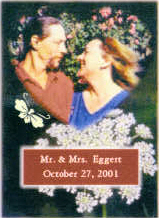 The 8x10 Gift Pak was delivered Framed and was said to be a focal point of pride and beauty in the couple's new living room.
Our Customer said the Gift was way BEYOND a WOW! with everyone... the Couple included!

She felt very proud it came from her
and glad she had gone through the process.

Of course, this included and was presented with a
Coded Certificate of Authenticity
and a
Matching Occasion Card!
This Couple also received one of our "Gift Web Pages"
As a Wedding Gift from another member of the Wedding party.
All Gift Webpages come with FREE Custom Paper Wedding Card
AND a Musical Email Card for them to present the Gift Web Page.
~ Built in a FREE space ~
It was ONLY A ONE TIME CHARGE OF $25 per page!
The Couple was so thrilled with the concept, they chose to have us keep on ADDING TO IT as their lives unfolded together!

To Learn More About Our Wedding Services!
Give us a Call or Email us!
We'll be happy to help YOU
At a price you can definitely AFFORD!