FREE!
Websites and Pages built in FREE host servers
so there is NO MONTHLY FEE TO YOU!
Like THIS one!
FOR A LIMITED TIME ONLY:
Site Constructions Include 250 FREE Business Cards
~ Details Below ~

No matter what you are looking for,

if you search long and hard enough

... IN THE RIGHT PLACES ...

there is always a bargain out there that makes you surprisingly happy.

THIS IS THE ONE!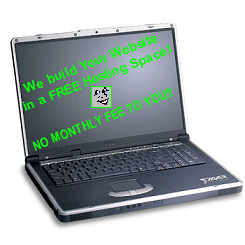 $ MUCH MORE AFFORDABLE THAN YOU THINK $

Yes.

Like many others, we build webpages,

But we're a lot more affordable.

And we're a lot more Customer Service oriented.
In addition to that...
We Maximize our Customer's Income

and Minimize their Expenses
by offering

WEB PAGES and SITES

BUILT and PLACED ON

SERVERS

$ So! THERE'S NO MONTHLY FEE TO YOU! $

We enter content
AT OUR CUSTOMER'S SPECIFICATIONS
and
KEEP ON BUILDING UNTIL THEY ARE HAPPY WITH IT!

Up to 30 days of FREE changes.

We ADD META TAGS to your pages and submit them to search engines for you.

Through our brief monthly newsletter (filled with happy, funny, clean thoughts) we let you know which companies we found that let you list your site on theirs FOR FREE.

We also keep our eye out to let you know which companies are offering to
~ PAY YOU ~
to put a click through banner on your site if you want!
$
ALL INCLUDED IN ONE AFFORDABLE PRICE
A one time building cost of

* * * JUST $25 AND LESS PER PAGE! * * *

HARD TO BELIEVE?
TAKE A LOOK at just a FEW sites done for our Customers.
CLICK ON THE LINKS BELOW.
AS VIEWING, PLEASE KEEP IN MIND THAT THESE ARE DONE PER OUR CUSTOMERS' SPECIFICATIONS ~
And that we offer to speak for our Customers in the FIRST PERSON vernacular
so it sounds like THEY are the ones speaking on the page...
A Nice Touch for Individuals and Businesses alike.

The ads on these pages and sites can be stopped any time
with just a $4.95 a month fee to the host company...
AND WILL THEN LOOK JUST LIKE OURS!
An Employer/Employee Prayer Group
We'll be happy to work with you on a page or full site
that fits your needs and minimizes your expenses.

CONTACT CPC SERVICES TODAY

blind page break