Let us turn favorite photos of your
Business, Team, Family, Pets, Organization, Hobby
Favorite People, Places and Things
Into Your Custom Designed Business Cards!
Spacer
~ CUSTOM DESIGNED BUSINESS CARDS ~
Scenery Business Card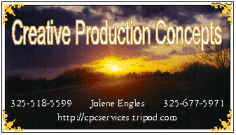 Background from The Abilene Series Galleries
~ Simple or Complex ~
Front Only
or
Front and Back
Featuring your graphics or photos
or
Featuring Ours
or
Featuring Graphics or Photos we create for you...

WE ENJOY DOING THEM ALL!



Starting at Paks of 25!
An excellent way to help familiarize Customers with You and your Business is to
Feature a photo of self, staff, shop front, Product or Other related item
as a backdrop for your Custom Business Card!
SUPER AFFORDABLE
INHOUSE PHOTOGRAPHER AVAILABLE!
LINK YOUR BUSINESS CARD TO A SIMPLE WEBSITE IN A FREE HOSTED SPACE
For a simple one time fee of just $25!

Let's talk over what YOU would LIKE TO ACHIEVE with your Business Cards.

SEE HOW WE CAN HELP!

Asking is FREE!
CONTACT US TODAY!

CLICK HERE TO LEARN ABOUT OUR ORDERING PROCESS



~ SCENERY BUSINESS CARDS ~
Featuring the fabulous photography backgrounds of
"The Abilene Series"
Select Your Favorite Background from "The Abilene Series" Gallery,
give us a call or drop us an email
and we'll Custom Create you a Business Card UNLIKE ANY OTHERS!
One Folks will KEEP ON TOP just to LOOK AT!
TO ORDER or RE-ORDER ANY OF OUR PRODUCTS AT THIS TIME:
Just CONTACT US and we'll walk you through it!
THANKS!